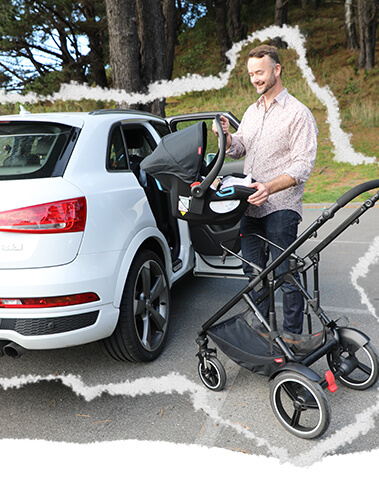 what's a travel system & why do you need one?
We simply think a travel system is the best thing since sliced bread! By easily attaching your infant car seat to your stroller using adaptors, you'll drive bubs around & get from car to stroller & back again in seconds! Sounds like freedom right?
Now that you get what a travel system is, you're probably still wondering whether or not you need one huh?
Do you like the sight of your snoozin' bub that you don't want to wake getting in & out of the car?
Wanna make getting out&about with your new addition as easy & fuss-free as possible?
Do you wanna enjoy parent facing strollin' from day one?
If the answer is YES, then a travel system will help you keep your sanity & allow you to explore further together, peacefully!
riding options
At phil&teds, we're all about helping you adapt&survive your parenting day, so rest assured all our strollers can be turned into a travel system, so whether you have one of our compact singles or an original inline®, there's a newborn (even twin) riding option for you.
how do I make a travel system?
We've streamlined our range of adaptors to make it even easier for you!
universal car seat adaptor for inline® strollers

Our universal car seat adaptor simply clicks on our 2019+ inline® strollers & gives you the freedom to attach our alpha™ infant car seat or most leading car seat brands to your stroller in any mode – including twins! Our globally safety certified car seat adaptor is as easy & safe as a regular clicking system but offers way more freedom as it is… well, universal!
adaptors for singles' strollers

Use the travel system belt to turn your go™ into an easy newborn ready travel system solution by firmly strapping alpha™ infant car seat or most leading car seat brands & use our TS40 adaptors to click on our alpha™ infant car seat to smart™ or mod™